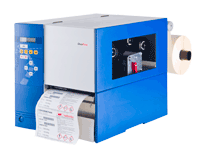 Two-coloured printing with the Spectra Dual Print
With this unique innovation, Carl Valentin GmbH from Villingen-Schwenningen sets new benchmarks in the labelling industry.
Labels are important information carriers. In order to get a fast overview in the flood of labels, coloured accentuations are an important orientation guide.
Klik på billedet for at returnere til printeroversigten.